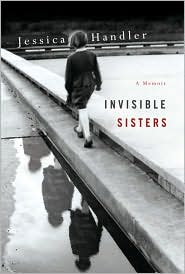 By Frank Reiss
Jessica Handler's memoir,
Invisible Sisters
, was compared by Atlanta Magazine's Teresa Weaver to
The Year of Magical Thinking
by
Joan Didion
. It is an apt comparison, for Handler's work, like Didion's, finds surprising uplift in the most heartbreaking of stories.
Handler grew up in Atlanta's Morningside neighborhood in the 1960s and 1970s, the oldest of three daughters. Both of her sisters died of rare blood diseases, leaving Handler with the legacy of a decimated family, memories of a fleetingly idyllic youth and imaginings of what life might have been like had such tragedy not befallen them.
One of her coping mechanisms has been keeping detailed journals throughout her life, and these have enabled Handler to capture her family's experience in rich and intimate detail. The memoir also serves as a portrait of the
Atlanta
during some of its most volatile years (she attended
Dr. Martin Luther King's funeral
) and her present life: married,
childless by choice
, and an instructor of
creative writing
.
In its graceful handling of such emotionally raw material,
Invisible Sisters
stands as terrific instruction itself on the art of writing. And in conversation Handler reveals herself to be good-humored and wizened by her act of rendering her life into art.
Listen to this episode